In 2004, possibly the most alcoholic year of my life to date, a year before my 21st birthday, I moved into a house in what is known as the 'student ghetto.' It's not that bad of a neighborhood but it is filled with college students and poor families. The streets are covered in trash, on any given night there is a raging party on every block, and there is a pizza place and a bodega on every corner. My block was no different, and my house most certainly accounted for its share of garbage and parties. On the corner was Pine Hills Market, run by Joe and his wife.
Joe and his wife were a lovely couple. Joe would sell me beer underage because he either liked me or liked my regular business, but whatever the case he helped fuel a house which was constantly drinking and eating. We were eating breakfast sandwiches. All the time. Almost every day. My roommates, my friends who were constantly crashing on my couch, and of course my own self.
Sausage, egg and cheese, with hashbrown (think hashbrown patty), salt, pepper, and ketchup on a hard roll. That was the perfect sandwich for the time. It had almost all the ingredients for a good breakfast, it was freshly prepared on the griddle, it was always made with love, it was always handed off with a smile, and it was always heaven on the first bite. Some people may be thinking to themselves, where's the bacon? Well that stayed in the store because I don't like microwaved bacon. You wouldn't microwave a steak would you? No. You wouldn't. And I won't eat microwaved bacon.
All good things must come to an end however, Joe moved to Virginia, I moved uptown into a bigger house with bigger scumbags, and the tradition of hung over breakfast sandwiches was over, but the memory lives on in all our hearts.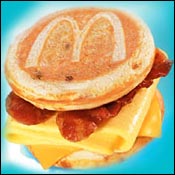 In the war between fast food breakfast sandwiches there is one clear winner, McDonald's very own McGriddle. The syrup infused pancake-esque patties on the outside of the sandwich seal the deal and push the sandwich far ahead of the competition. If the McGriddle was a movie character I would compare it with Keyser Soze from the Usual Suspects. Other breakfast sandwiches know of its existence, and fear it. I heard a about a commercial planned for Burger King that involved their very own breakfast sandwich. Unfortunately the commercial had to be canned because of 'complications.'
The plot for the advertisement had the Wopper man, Wopper Jr. boy, and Spicy Chicken Sandwich kid, all on a cross-country trip. Wopper man was to be driving a minivan down a highway with the kids sleeping in back. Wopper man is showing signs of fatigue as the early morning comes and the sun rises. He needs a rest so he pulls over on the side of the road, splashes some water in his face and tries to get himself together. As he goes to pull back onto the road the Burger King breakfast sandwich man is supposed to come out with a cup of coffee to wake him up. It was a cute idea but someone kept killing the actors that were to play breakfast sandwich man. No one knows who committed the murders but I think we all have a good idea a certain competition breakfast sandwich was involved.
Although it is not technically a sandwich and more of a wrap, I still think the Pepperjack's breakfast burrito deserves some mention. Pepperjack's is a sandwich shop a few blocks down from my house in Albany. The breakfast burrito comes with ham, bacon, eggs, cheese, and hash browns in a wrap. I always substitute sausage for ham because canadian bacon just isn't that great. I'm declaring right now that canadian bacon is false breakfast meat and those who claim otherwise shall be tossed into the fire. The breakfast burrito is one of Pepperjack's most popular items and for some reason they will not deliver it, you can only pick it up or eat it there. It's worth the trip for sure.
My new favorite place to get a breakfast sandwich is Cafe 217. I wrote about this lovely place in an earlier entry. I'd like to state again, for the record, that Cafe 217 has perfectly cooked bacon. That is what makes this breakfast sandwich so good. The consistency in the crispiness borderlines OCD, and you have to admire a place that compulsively loves bacon that much. Some nights I wake up in a cold sweat, after a horrible nightmare; the cafe closed and was replaced with a Starbucks. I don't know what I would do if a tragedy like this occurred. Though if asked I would have no qualm with becoming a martyr for the cause and taking out the building in that case, because bacon is my god.